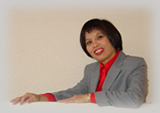 Ms Phyllis Koessler brings with her a wealth of global experience in the aviation and travel industry as well as information technology with her professional experience working in cross-cultural environments from a base in Switzerland. She has lived and worked in many countries in the Asia Pacific region, Europe and USA.
She is fluent in several languages and was the first Swiss female to earn an MBA in Strategic Marketing from the University of Hull in the U.K. She has also obtained M.Sc in SAP system with SAP College, Olten Switzerland.
Ms Koessler conducts seminars, lectures and coaching on principal areas of expertise in international business, global marketing, cross-cultural communication and change management for several universities, business colleges and corporations.
Because of her team oriented leadership style and with a profound understanding of the values & complexity of the diverse cultures in business settings, Ms. Koessler has earned praise from and created dramatic value for her international business clients throughout her career.
Her professional footprint and business networks are located in the Middle East, Arabian Gulf countries, Asia Pacific region, USA and Europe.